Resides in Caloundra Queensland Australia.
Born originally in Rushall England but has lived in Australia for the past 32 years and is a Australian Citizen.

Drives Outback Thunda, has driven
Monster Patrol, Scooby Doo, Taz, Samson Aus and Batman Aus to name a few (used to own Extreme Monster trucks and a stable of ten trucks).

Hobbies: Staying fit, i go to Darren Obahs boxing gym every day I am home and I train every day possible.

Occupation: I own Kc's Fireworks Displays conducting fireworks shows plus I am a promoter, staging monster truck events for the past 20 years and stunt shows own numerous other types of equipment.

Likes: love training, love my kids, some have grown up now and moved on but I still miss them. I love going to national parks around USA and visiting other countries, I have been to almost 70 countries now.

Hates: Do gooders finding fault with all in the world, LAX airport, users in this industry, use you when you are of benefit to their gain, then not even acknowledge you when you are no longer any use to them.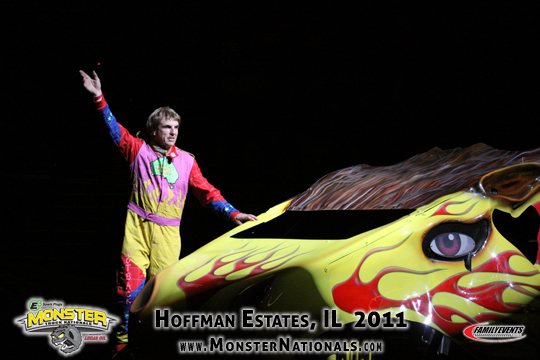 Ambitions: To try to do well in Monster trucks in the USA over the next couple of years, to make the monster truck scene in Asia work, to try to help my family prosper, to hopefully do just a little good for the monster truck scene in general.

Favourite Music: Disturbed, Bullet for my Valentine, basically any heavy metal.

Favourite food: Probably nice steak and salad, like raw oysters.

Favourite drink: Sparkling mineral water, I donít drink alcohol so thats fairly limited.

Kids: Craig is the oldest, then Billy, Who is now in the Australian Army, Jaye is at Unil and still occasionally driving monster trucks.

Influences: In the USA Paul Shafer has helped me enormously right from the day i started buying trucks. He has to be the kindest man on earth, so many people in this industry just donít know what a good man he is. Dan Patrick certainly builds us good equipment and is always available for advice whenever I need it. Even though we fight a lot when i ran the monster truck business, Kreg Christensen worked his guts out to bring to trucks up to a new level, he is a very hard working man and taught me a lot i am glad he got his dream over at Feld he deserves it.